This Christmas we are on a self-imposed diet of only indulging in fabulous sweets and treats that we know we will absolutely love... that means, a slice of lemon bread - oh yes, bring it on... a sugar cookie from the neighbour - no thank you I'll pass. In essence we are passing on the "oks" so that we can really enjoy the "amazings" without any guilt.
This is not easy. I've had to distract myself - a lot!
So while I was busy putting one of these together for our puppy's groomer I was able to avoid thinking about our favourite Fudgy Peppermint Candy brownies :)
But given today's blog party at
Schue Love
(a perfectly gorgeous blog) for Bringing Holiday Cheer to the Blogosphere where we are sharing a Christmas recipe... my thoughts of fudge-y peppermint-y brownies were not to be tamed :)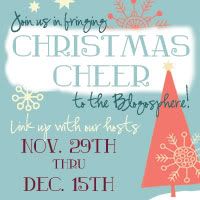 But seriously, where is my self-restraint? I'll be making these next week for my sister's bridal shower that I'm throwing and I just couldn't live with myself (and my growing waistline) if I indulged 2x in one week... so today, I'm going to share the recipe and imagine the taste of these guys in my mouth... mmmmm... good!!
The recipe comes from this fantastic cookbook which I rely on every Christmas for all the best recipes!
Filled with pictures like this one, its hard not to drool on the pages :) These peanut butter toffee turtle cookies taste as good as they look - trust me!
But really, the star of the show is the Fudgy Peppermint Candy Brownie... its like a Peppermint Mocha in solid form - Fantastic!! I usually make them from scratch as per the recipe but I've also cheated and added peppermint extract to a favorite brownie-in-a-box mix and topped with the chopped up York Peppermint Patties when I was in a hurry and it was still phenomenal.
If you try out the recipe let me know and I will attempt to live vicariously through your tastebuds... hmmm, that sounds weird... but you get the idea ;-)
** Only two more days until the last Bring Cheer party at
Michaela's
where we will be sharing Holiday Decor...