In celebration of
Holiday Vignette Day
, which Courtney is hosting at
A Thoughtful Place
, I wanted to share my the way I've styled my hall table for Christmas.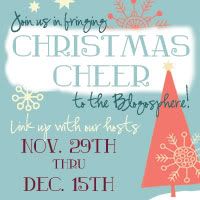 Around our house we typically stick with a red, white and silver colour scheme but when I found these shiny green candle holders on sale last year I knew I had to have them. In order to avoid the red and green thing though I'm trying to keep the green fairly removed from anything red.
Of course, this is still a hall table so I needed to include a little dish for random small items that need a place to live until I get a chance to put them away.
Trying to keep the heights varied, I also brought in a green glass luminary that I got a Crate and Barrel earlier this year and some acrylic letters that spell "JOY" my favourite Christmas word (it shows up all over the house).
Hey, neat, I can see my reflection in some of the globes :)
We also got a chance to put up our garland on the banister. I've posted about this before but its basically a wire garland with lights, glitter-y cording, and silver and red globes mixed in.
If you happen to be in the market for a handmade Christmas gift for a friend or loved one, we would love for you to check out the gift guide and get in touch. We also just finished up some edge grain cutting boards that we are selling for almost 50% off the regular price for the holidays. All are priced between $20 and $40 and are a cinch to ship within North America! If you are interested, send me a message or leave a comment and I'll be in touch!